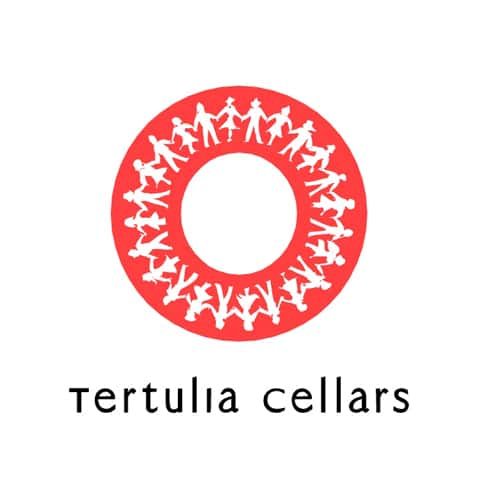 The cellar utilizes the most modern winemaking equipment while respecting old world winemaking techniques.
Location
1564 Whiteley Road
Walla Walla, 99362
Call: 509.525.5700
Hours
Thursday - Saturday, 11-6,
Sunday & Monday, 11-5
Tuesday & Wednesday, By appointment
Jan-March, Seasonal Hours. Please call ahead.
Closed for the following holidays: July 4th, Thanksgiving, Christmas Eve & Day and New Years Eve & Day.
Tertulia Cellars was founded in 2005 with the idea to make terroir driven wines from the Walla Walla valley. The winery is nestled in the heart of the Walla Walla's wine country surrounded by our Whistling Hills vineyard with a beautiful view of the Blue Mountains.
The state of the art winery and cellar were constructed in 2007, finished in 2008, with a focus on sustainability, functionality and beauty reflecting the core values of Tertulia Cellars. The cellar utilizes the most modern winemaking equipment while respecting old world winemaking techniques. The tasting room is warm and contemporary with circles repeating themselves throughout, representing Tertulia's circle of friends.
Tertulia means a social gathering of friends and we believe it is the final components of our wines. Tertulia Cellars has become a destination where people can gather with loved ones, appreciating one of the simple pleasures of life: wine. Please bring your own "tertulia" and join us.
The Tasting Room
Tertulia's signature circle of friends is not only a distinctive icon, but also has a deeper meaning to the owner. The curvilinear shape of the Tasting Room bar and the use of circular tiles and fabrics took inspiration from this symbol. The label branding is echoed in bright splashes of color found throughout the Tetulia Cellars Tasting Room.
We invite you to join us, and enjoy Tertulia wines in an atmosphere of true warmth and hospitality.
Ryan Raber, Winemaker
Ryan Raber is a self described hedonist, always thinking about his next meal. He was born and raised in Washington State with a family history rich in the culinary arts. Logically with great food on the table you will find a few choice bottles of wine.
Ryan's first experience with wine was in his early teens, making wine at home with his family. Later as his interest in wine grew he decided to pursue a career path that would eventually lead him to become the winemaker for Tertulia Cellars.